Submitted by

bdavis21

on Wed, 02/21/2018 - 13:55
  On October 16, 2017, Massachusetts General Hospital celebrated the opening of The Dauten Family Center for Bipolar Treatment Innovation. A formal program, held in the Hospital's historic Ether Dome, was attended by the Center's faculty and staff, hospital leadership, and several leading researchers of bipolar disorder. Liz and Kent Dauten, philanthropists whose vision led to the creation of The Dauten Family Center, as well as other donors, friends and family members were honored guests.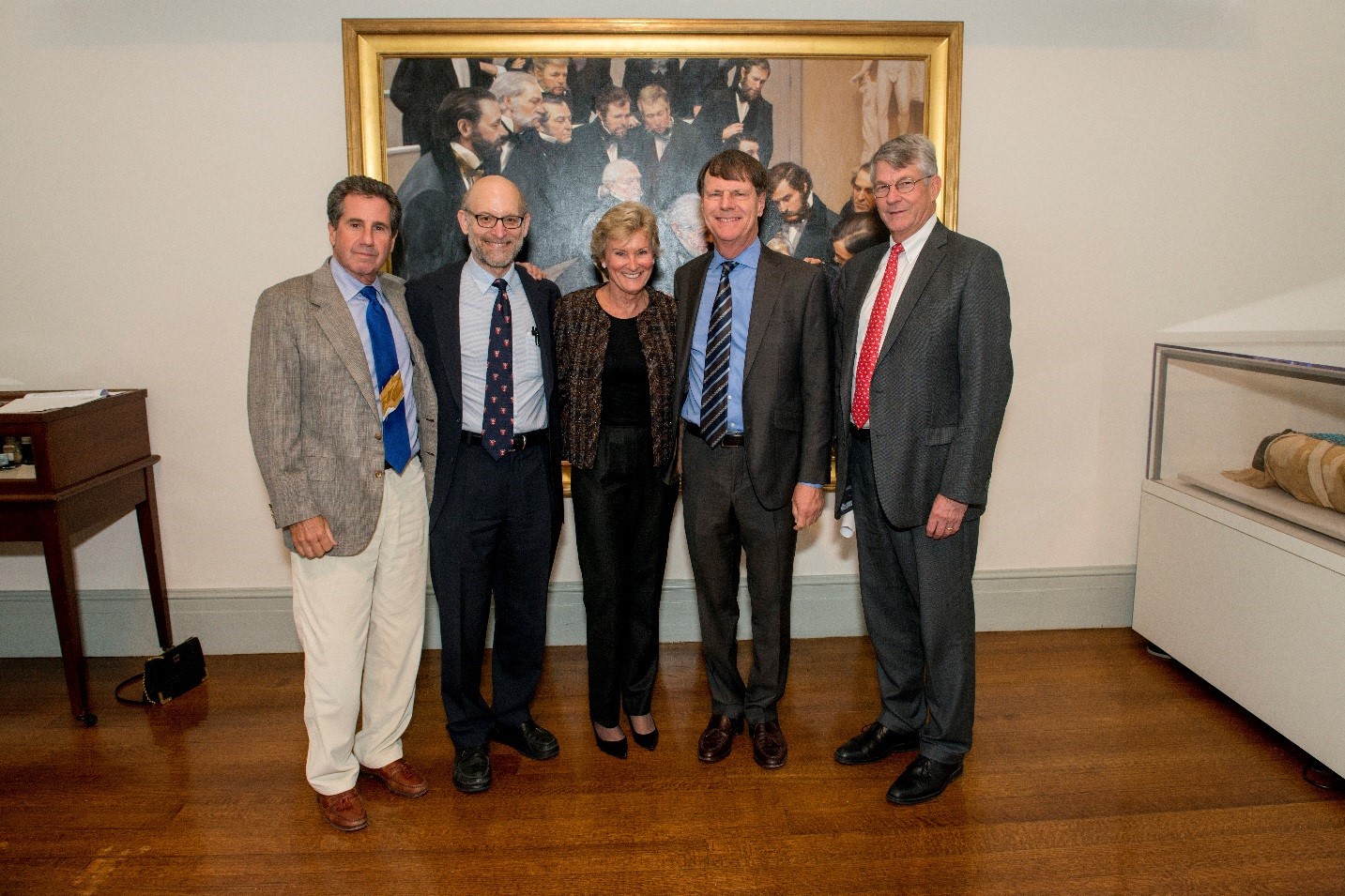 The program included remarks by Dr. Peter Slavin, President of MGH; Dr. Jerrold Rosenbaum, Psychiatrist-in-Chief, Dr. Andrew Nierenberg, Director of The Dauten Family Center for Bipolar Treatment Innovation, and Dr. Britain Nicholson, Senior Vice President, Development. Reflections shared by Kent and Liz Dauten emphasized the great need for new treatments of bipolar disorder. Presented as a "Top Ten List" in a nod to one of their favorite segments from the Late Show, their remarks are reprinted below:
Top 10 Reasons Why the World Needs The Dauten Family Center for Bipolar Treatment Innovation
There is no known cure for the lifelong condition of Bipolar Disorder, only treatments which are more art and trial-and-error guesswork than science.

The last major drug discovery specific to treating Bipolar Disorder occurred in 1948 when an Australian researcher accidentally discovered that Lithium is an effective mood stabilizer, and it is still considered the gold standard almost 70 years later despite its limitations.

Most of the leading mood stabilizing drugs for Bipolar Disorder have significant side effects like gastrointestinal distress/diarrhea, rapid and severe weight gain, rashes, tremors, and other side effects which often lead to medication non-compliance, further complicating treatment.

The manic phase of Bipolar Disorder often makes patients feel so good, even euphoric, that they stop taking their medications. Compliance then suffers, as can their savings accounts, personal relationships and jobs during this phase.

There is no medical test yet to predict or confirm whether an individual will develop or has Bipolar Disorder, so you just have to wait for the peculiar and dangerous behavioral symptoms to present in order to diagnose it. The length of time from a person's first Bipolar symptoms to correct diagnosis and treatment typically ranges from 3 ½ to 10 years.

The symptoms of Bipolar Disorder can range from debilitating depression to euphoric mania to extreme psychosis. To an outsider, someone living with Bipolar Disorder may also be incorrectly perceived at times as being unmotivated, apathetic and even lazy.

Bipolar Disorder episodes can cause individuals to drop out of life for months or more at a time due to extended hospitalization and the search for customized medication regimens, sacrificing schooling, jobs, and friendships along the way.

Although it may be improving, Bipolar Disorder is still such a stigmatized mental illness that individuals and their families are reluctant to speak about it in public (if at all), and often have to cope with it alone rather than with social support like other diseases.

Although with most other illnesses you "have" them, with Bipolar Disorder you "are" the disease—A person can have cancer but is bipolar. Even worse, while other diseases can kill you, with Bipolar Disorder you are perceived as killing yourself with the high risk of suicide.

Over 6 million people in the United States alone suffer from this devastating and life-altering illness—we can and need to do better!
 The celebration of The Dauten Family Center for Bipolar Treatment Innovation concluded with a reception in the Hospital's East Garden Room.
 The Dautens' Inspiration: after spending years seeking treatment for their child, who struggled with treatment-resistant bipolar disorder, Liz and Kent found promise in the high-quality and innovative clinical care provided by Dr. Andrew Nierenberg. They, along with other donors inspired by the creation of the Center, established the endowment for The Dauten Family Center. The endowment as well as current-use support for the Center drives research and discovery while at the same time is intended to leverage further grants and funding, a critical component to the future growth and success of The Dauten Family Center. The Center now serves as a world-class organization to accelerate the discovery of better treatments to improve the health, wellness, and functioning of people living with bipolar disorder.
 If you would like to learn more about the Dauten Family Center, please contact Andrew Nierenberg, MD, at anierenberg@mgh.harvard.edu. To learn more about how to join with The Dauten Family Center's friends and supporters to contribute to this program, please contact Katherine "Kay" Liscomb, Senior Director of Development, at kliscomb@partners.org or 617-643-5778.